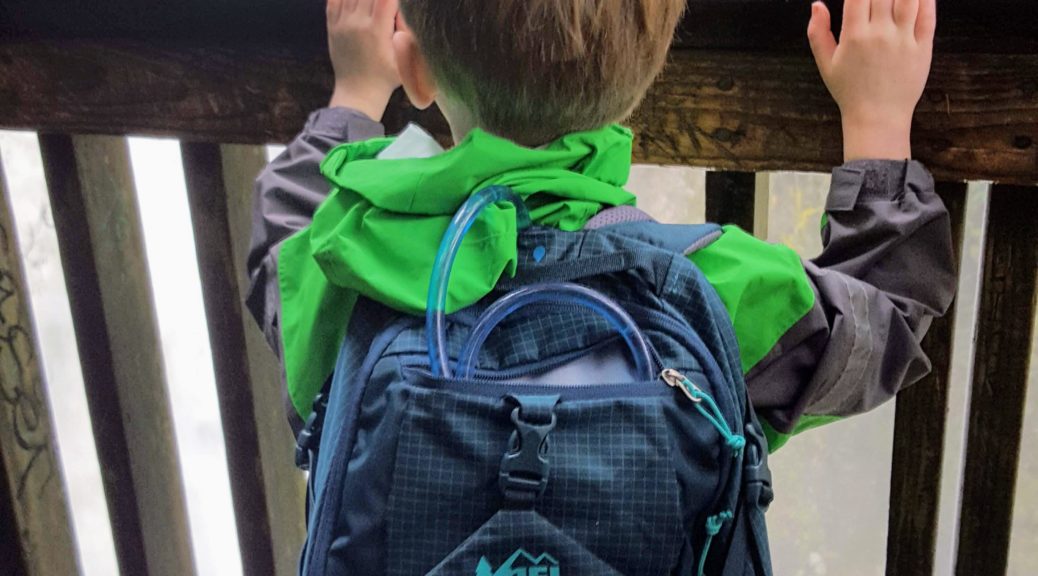 It's been a long time since I've done this hike and I couldn't remember the intensity.  Based on the description, it sounded about perfect for my 5 year old. It's 2.5 miles round-trip and around 500 feet elevation gain. It was the perfect amount of challenge for him, some big logs to climb over, some big rocks. Lots of drop-offs. The elevation gain was pretty much all in one section. A this point I think his maximum hike distance + elevation that wouldn't cause him to complain would be around 3 miles + 1000′.  He's started carrying a little bit of his own water and a few supplies. So far in his pack he carries water, some snacks, a little headlamp, a whistle, and emergency blanket.  The recommendations are no more than 10% of a child's body-weight, so for him that's 4.5lbs.  His Oakiwear suit still fits him but I think this will be the last year it's long enough. They do go up in one more size, but I think we'll get a two-piece suit next.
This was his 2nd hike with his REI Tarn 18 pack and it's a perfect fit for his size. It weighs only 17oz which leaves a good amount of weight for gear.  I am so impressed with this pack that I am thinking I'll get a similar adult version for myself. The only drawback is that it's only minimally water resistant and so for hikes in heavy rains (a frequent occurrence here), it will require a pack cover.
It was drizzling and muddy, but it felt good to be out and hiking when there were not tons of people crowding this trail. During the summer this trail is insanely crowded and popular, even on weekdays.  The falls was incredibly full and the river was filled up to the banks.