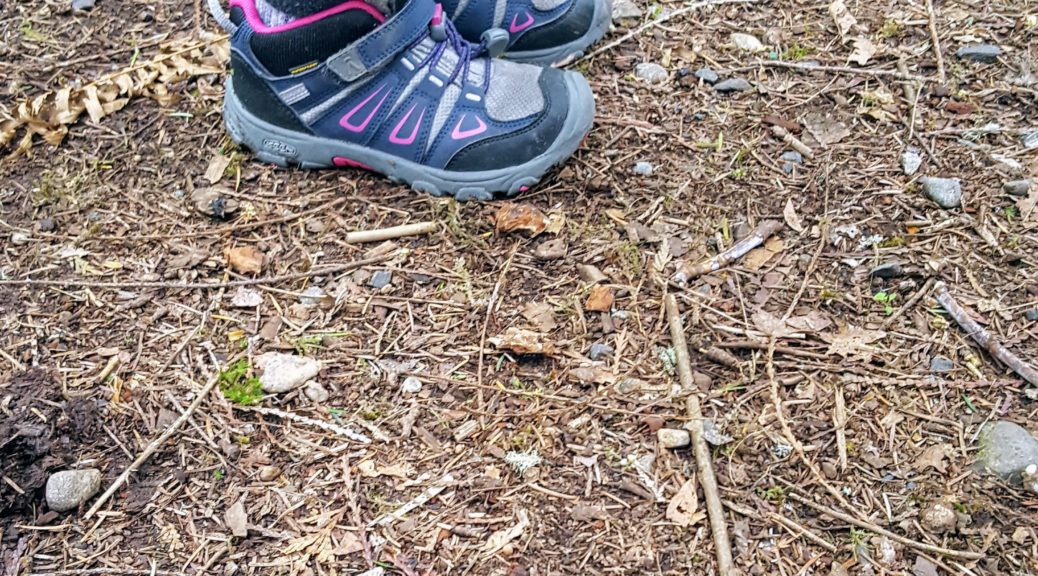 Gear Review – First Hiking Boots!
Gear Review – First Hiking Boots!
It's hard to believe that this person that was once so tiny his feet could fit into the palm of my hand now needs hiking boots! I went back and forth about whether it was time to get him some boots because I had trouble justifying the cost of boots if he was only going to wear them once a month or so, but he's already worn them at least 10 times and it's been a little over a month since we bought them.
I've found that in general Keen shoes seem to just fit my son well and they also work great for other members of my family (myself included), so that's where we started. We went to REI and tried on multiple styles of kid's hiking boots but as soon as he tried these on he went "Ahhh" and I  knew they were the right ones.  The best fit were Keen Oakridge Mid waterproof. Getting a 4 year old to A. sit still long enough to try on boots, and B. Give you any reliable information on fit is hard, but I could tell pretty quickly that these were the right ones. I had him stand and wiggle his toes so I could see how much room he had and he could easily wiggle all toes. I also had him climb the REI climbing rock and I looked for slippage at the heels and didn't notice any. The also just looked right on his feet in terms of bulk and length. I didn't notice him tripping or anything while walking. He normally wears Keen low-tops for everyday wear so it was kind of a no-brainer they would work. For more slender/narrow feet the Merrell Capra Mid looked like a good choice.  Waterproof boots are definitely a necessity in the PNW and those were the only two I saw that had a waterproof label.
They also work great for soggy/rainy days when a sneaker will just get wet and when walking a lot in a rain boot would be uncomfortable. There's a reason why many people wear hiking boots as everyday wear in the PNW.